HR And Payroll Outsourcing Services
The magnitude of business operational complexities has never been as intense as what we witness today and this situation is all the more aggravated when it comes to human capital, which is giving nightmares to HR departments of nearly each and every company. A business slowdown may leave permanent employees expensively twiddling their thumbs on full salary-or out of jobs, on the other hand, a new product or process launch might require hiring 100 skilled professionals- to start as of yesterday.

The continuous effort of identifying, attracting and screening potential employees didn't really exist 10 years ago. Nowadays, with a rich supply of job seekers beating down HR's doors, the dilemma is how do you separate the best prospects from the noisy pack – a tremendously time consuming burden on a company's hiring resources. The prevalent situation led us to a brainstorm which then alluded towards yet another vertical, 'Temporary Staffing' (commonly known as temp staffing). It is now used by our clients to optimize the staffing costs substantially.

Our innovative Staffing and HR Resources solutions are tailored to enable organizations meet the challenges of today's fast changing business environment. Our consultants are highly skilled and well versed in particular industry sectors enabling them to have a thorough understanding of the assignments.

We help clients by sourcing staff, sometimes at a very short notice. We help them further by solving co-employment issues and providing the administrative management of our temporary employees, including HR management, payroll & benefits administration. Also should you decide to engage the temporary on a permanent basis, we have the conversion scheme.

Our focus is on raising productivity through improved quality, efficiency as well as cost-reduction, thus enabling the customer to concentrate on its core business activities. With RKCO being your staffing partner, you would be able to benefit from the valuable and cost effective measure, thus allowing you to exercise greater flexibility through economic highs and lows.
RKCO partners with customers to source the requisite personnel against the manpower staffing requirements
The personnel are brought on board on the rolls of RKCO
Transfer of the newly recruited personnel on RKCO's roll and thus RKCO takes the complete responsibility of servicing the payroll and other benefits
Transfer of the newly recruited personnel on RKCO's roll and thus RKCO takes the complete responsibility of servicing the payroll and other benefits
Continuous servicing and processing of the personnel's payrolls and other allied HR activities
Payroll Managed Services
RKCO offers the most efficient corporate payroll services. In the HR spectrum, Payroll management is an indispensable service that requires rigorous quality adherence, agility & a high degree of planning. To maximize your company's gains – our payroll unit offers error free payroll processing through a customized Employee Self Service (ESS) & facilitates employee interaction and client Self Service (CSS) through a secured web network.
Our team of practitioners handles re-imbursement processing, full and final settlement processing, preparation of salary slips, PT, PF, Contract Labor, ESIC and LWF.
Our clients benefit from consistent payroll processing, customized customer engagements to handle queries and complete data security.
Administration Benefits
RKCO aims at providing a comprehensive suite of HR outsourcing solutions focusing on client requirements. To manage significance employee benefits investment in today's competitive business environment is the key to any organizations success. We at RKCO, assure our best services ensuring results expected from these benefit plans increasing manifolds.
Our Benefit Administration services are provided to both large & mid-sized organizations. Our experts come with more than five decades of expertise, hence driving better outcomes for our clients and help them manage costs thereby reducing risk and improving compliance. We provide these tools through an exceptional customer experience, resulting in improved engagement & satisfaction.
Benefits Administration been a very expensive affair, companies requires specialized employee benefit services that are economical and result in satisfaction. With the latest technological solutions and innovative processes, we manage the entire range of HR management or benefits administration.
Process Orientation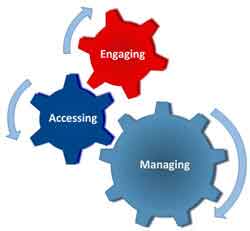 The Principles of Process excellence are sacrosanct for staffing success. These five processes are a fool-proof guide to achieving ideal productivities and efficiencies.
Dynamism: To constantly evolve so as to address clients' needs in an environment where businesses keep on changing
Diligence: Ensuring rapid turn-around-times, and managing highest standards of quality and service
Innovation: Creating high value propositions by innovating best practices and executing these as success transfers to our clients
Customer Centricity: To center our existence with respect to the customer in all spheres of business dealings
Knowledge: To meet customer expectations with an in-depth knowledge of the industry in all respects
Enhancement: Continual improvement and learning is innate to the RKCO style of functioning. This knowledge helps us deal with problems with a more diagnostic approach
Recruitment Capability
Strategy
Working together with our clients, we evaluate the situation and determine a search strategy for finding the best candidate. An important aspect to this process is a clear understanding of the client's culture, the position, responsibilities and necessary qualifications needed to do justice to the position. Once the profile is developed, we define our search strategy, including target sectors, companies as well as levels which result in finding the best person for the job.
Candidate Identification and Assessment
We conduct preliminary research for developing an initial candidate list. We contact, meet, assess and validate a short list of potential candidates through telephonic and personal interviews. Our team then prepares a confidential candidate assessment report, which is then presented to the client for review. When the client is ready to proceed on the list, our team assists with coordinating the interviews as well as taking & incorporating regular feedback.
Search Completion, follow up and hand holding
We consult with our clients to review top candidates and support the selection process. We frequently provide support in the negotiations between the client and candidate. Even after the position is filled, we conduct ongoing follow-up with both client and candidate to ensure success of the hired executive.
Value Proposition

HRO & Managed Services
We understand the complete need of the customer, wherever so required and provide skilled manpower to undertake specific HR activities as required by the customer on the basis of SLA's laid down in the contract thus offering a need based solution.
SEARCH & SELECTION
Executive Search
Recruitment & Selection
Inducting & On-boarding
WAREHOUSE MANAGEMENT
Warehouse Management Services
Service Highlights
Benefits
Warehouse Process
Warehouse Process Cycle
MANPOWER SERVICES
Recruitment Process
Services
Value added Services
HR OUTSOURCING
Temporary Staffing Solution
Payroll Managed Service
Benefit Administration
Process Orientation
Recruitment Capability
HRO and Managed Services
Value Added Services
TRAINING & DEVELOPMENT
OD Intervention
Management Development
Leadership Development
Assessment
HR CONSULTING & ADVISORY
Manpower Planning
Performance Management
Compensation & Benefits
Organizational Design & Restructuring