HR Strategy, Services And Planning
In today's world, only technology and capital do not provide a competitive edge. The next frontier of competitive advantage is Talent and People. RKCO helps organizations develop, re-design and deploy HR systems and processes.
We help our clients to:
Manpower Planning
We ascertain the people capability required to deliver business goals. Our model takes into account business environment, competition, growth plans and cost optimization.

We assist our clients to re-deploy, fill specific skill gaps and manage exits thus enhancing productivity.
Manpower Planning Framework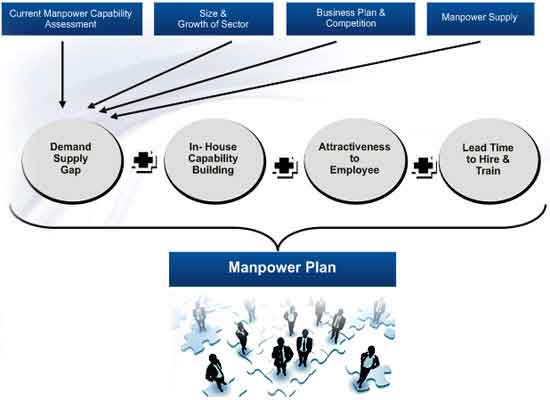 Performance Management
The business environment today is more pulsating than ever. While human resources professionals clearly understand the importance of optimal performance management, they often face significant internal obstacles. Growing organizational data and the ability to leverage it effectively in less time is a major challenge in today's times. Absence of master data, enterprise information and systems to manage the same are the challenge that your organization is facing.
Regularly tracking progress against performance goals and objectives also provides the opportunity to recognize and reward employees for performance and exceptional effort, contributing to job satisfaction and productivity. Employees want to feel successful, to do well at their job and feel they are making a valuable contribution. In order to ensure this happens, employees need a clear understanding of individual goals and how they fit into the larger organization. RKCO is the best manpower service provider that is committed to quickly achieve and help your enterprise to fulfill the aspirations of being agile, adaptable and efficient.
We work with our clients to develop customized solutions so as to enhance employee productivity and deliver business goals. We deliver end to end customized solutions: defining performance metrics, developing goal setting process, and- review and feedback mechanisms.

We undertake systems analysis and implement HRIS solutions for our clients.

To help our clients meet business contingency requirements and improve employee engagement levels; we provide Succession Planning and Career Path solutions.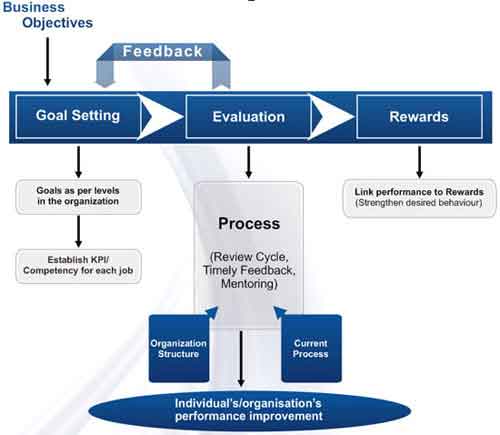 Our Compensation & Benefits
We take a total rewards approach to Compensation and Benefits combining monetary and non - monetary aspects while providing customized solutions to our clients.

Our compensation solutions are built around key business drivers so as to reward employee performance which spurs business growth.

Our compensation plans are designed to differentiate performance and reinforce desirable employee behaviors. Our expertise in incentive/ bonus plan designing helps the client enhance employee performance. Our solutions are focused on keeping a low fixed cost base yet using compensation as a tool to drive performance and enhance productivity.

We also undertake position specific salary benchmarking which helps our clients decide compensation for critical positions.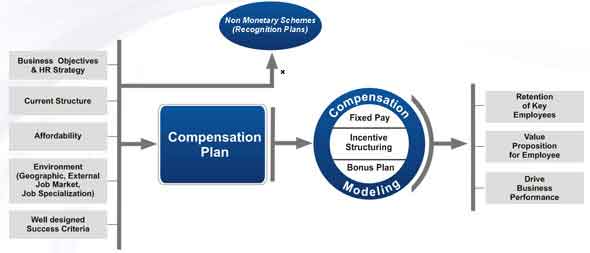 Organizational Design & Restructuring
We work with our clients to develop and design organization structures which enable speedier decision making, easier escalation of issues and resource optimization. We have helped organizations (entering new geographies) develop scalable organization structure. We have also helped mature organizations redefine/ modify their structure to keep it aligned to changing environment and business goals. We helped them plan out and implement sources to hire new talent, redeploy existing employees and manage exits where necessary.

We provide the complete suite of solutions developing the Job Descriptions, defining the performance metrics and competency requirement for the new structures. We have helped our clients assess the current capability of the organization by using competency based assessment centers.

Our varied experiences across industry verticals have helped us to develop industry specific solutions.
SEARCH & SELECTION
Executive Search
Recruitment & Selection
Inducting & On-boarding
WAREHOUSE MANAGEMENT
Warehouse Management Services
Service Highlights
Benefits
Warehouse Process
Warehouse Process Cycle
MANPOWER SERVICES
Recruitment Process
Services
Value added Services
HR OUTSOURCING
Temporary Staffing Solution
Payroll Managed Service
Benefit Administration
Process Orientation
Recruitment Capability
HRO and Managed Services
Value Added Services
TRAINING & DEVELOPMENT
OD Intervention
Management Development
Leadership Development
Assessment
HR CONSULTING & ADVISORY
Manpower Planning
Performance Management
Compensation & Benefits
Organizational Design & Restructuring